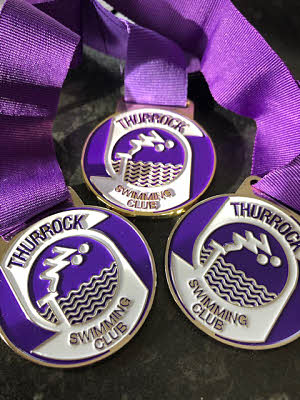 Early March, more than 50 members of Bishop's Stortford Swimming Club headed to the Regional Qualifier Gala hosted by Thurrock Swimming Club. For the younger swimmers it was a chance to beat their best times and maybe collect some bling, whilst the older swimmers were also chasing times for the Swim England East Region Championships.
The whole squad had a very successful meet, with swimmers medalling in every event and winning 22 Gold, 20 Silver and 21 Bronze medals.
The nine year old Boys squad of Arthur Longman, Caulder Paxton, Elliot Hall and Samuel Bird performed brilliantly, showing great promise for the future with at least one of them medalling in every event they had entered.
The 12/13 year old girls were particularly dominant, especially in 200m Breast and 200m Free where they took all three medals, and in the 50m Fly where cousins Jessie and Emma Fields took Gold and Silver.
Many of the swimmers obtained East Region qualifying times, though they unfortunately won't get a chance to show their skills on that bigger stage just yet, as those events are now postponed. As with many sports, there have been some big disappointments with recent cancellations, and the pool closures mean they are now fish on dry land trying to keep swim fit as best they can whilst waiting for the season to restart.
Congratulations to all BSSC swimmers on their achievements in the 2019/20 season!
09 Yrs Age Group
• Arthur Longman: Silver 100m Breast; Bronze 50m/200m Breast
• Elliot Hall: Silver 50m Breast, 50m Fly; Bronze 50m Free
• Samuel Bird: Silver 100m Free
10/11 Yrs Age Group
• Beau Reilly: Gold 200m Back; Silver 400m Free; Bronze 100m Back
• Catherine Clune: Gold 50m/100m Breast; Bronze 100m Free
• Eliza Andrews: Gold 50m/100m/200m Back; Bronze 400m Free
• Hannah Robinson: Bronze 50m Breast
• Leo Suo-Saunders: Gold 50m Breast; Silver 50m Free, 100m/200m Breast; Bronze 100m Free
• Zoe Opiyo: Silver 200m Breast
12/13 Yrs Age Group
• Alice Longman: Gold 100m Free
• Callum Cox: Gold 100m Fly; Silver 50m Back, 50m Fly, 100m Free; Bronze 50m Breast, 200m Fly, 200m IM
• Emma Fields: Silver 50m Fly
• Grace Mason: Bronze 400m IM
• Jago Derrington: Gold 200m/400m Free, 100m Back; Silver 200m Back; Bronze 50m Back
• Jessie Fields: Gold 50m/100m Fly; Silver 200m Free
• Kirsty Neill: Gold 50m/200m Breast, 200m/400m IM; Bronze 200m/400m Free
• Lauren Gore: Gold 100m Breast; Silver 50m/200m Breast
• Meisha Trend-Evans: Gold 50m/200m Free; Silver 100m/400m Free; Bronze 100m Back
• Miriam Moukdad: Bronze 200m Breast
14 Yrs/Over
• David Badcock: Bronze 200m Breast
• Hannah Morgan: Bronze 50m Breast
• Lilian Opiyo: Gold 50m Free; Silver 50m Breast; Bronze 100m/200m Breast